Your domain name is the face of your website and online business. Ideally, it will be easy-to-remember and easy-to-type so users can quickly associate your company name with a reliable brand. Looking at it from this perspective, picking the right domain name is one of your essential first steps.
As a ScalaHosting customer, you get everything you'll ever need to manage your domains.
Table of contents:
Registering a Domain
Managing Domains with ScalaHosting
Transferring Domains to ScalaHosting
What Happens if a Domain Expires?
Domain Reselling
Conclusion
Registering a Domain
In addition to the hosting packages, ScalaHosting offers you the chance to register a domain name during the signup process or later, through your Client Area. With our shared hosting and managed VPS hosting plans, you can even get a new domain completely free for the first year.
After you pick and configure your hosting plan, you will arrive on the Choose your Domain Name page. Select the Register a New Domain option, enter the URL into the field below, and pick the desired extension from the drop-down menu on the right. You can choose from one of the following TLDs:
.com, .net, .org, .info, .eu, .biz, .de, .in, .com.au, .mn, .asia, .ca, .org.uk, .co.uk, .us, .co.in, .club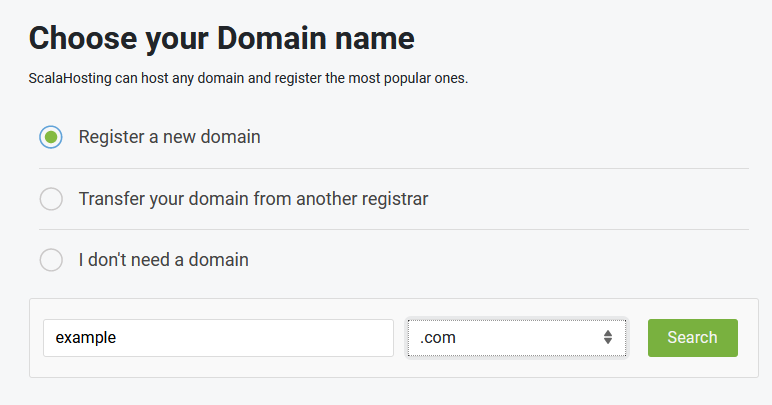 Click Search to find out if the domain you've picked is available for registration. If it is – you should see the following message:

Click Add to Cart and complete the order. After your account is created, the domain you've just registered will be assigned as a primary domain name.
Purchasing a hosting plan gives you access to your own Client Area at ScalaHosting.
As we mentioned, you can also register a domain at a later point. To do that, log in to your Client Area, and go to My Domains > Register a New Domain.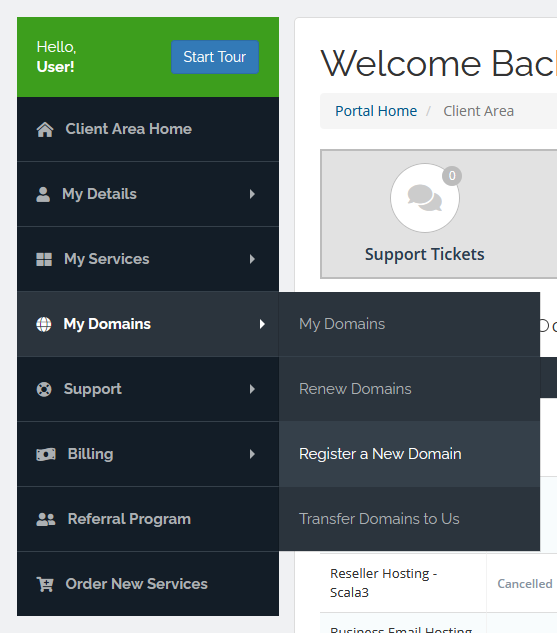 From then on, you simply need to pick a domain available for registration and complete the order.
Managing Domains with ScalaHosting
As you can see, once you pick an available domain, the registration process is fairly straightforward. Registering one is only half the story, though. You also need to point it to the correct server for it to resolve properly. This happens through your ScalaHosting Client Area.
In the My Domains menu, you have a list of all your domains as well as the tools you need to configure their DNS and renewal settings. To manage a domain, select the checkbox next to it and pick an action from the With Selected drop-down menu.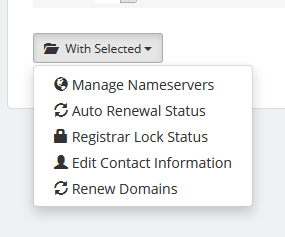 The Manage Nameservers option lets you point the domain to the appropriate website content.
If your domain was registered along with your ScalaHosting hosting account, the nameservers should be configured automatically. But if you want to point the URL to another account or to an outside server, you will need to alter these settings.
On the Edit Contact Information page, you can update the registrar's personal information. If you own a domain, your contact details are typically saved in the domain registry, and it's extremely important to ensure they are valid. If you lose access to the admin email address, for example, you have little means of proving the domain belongs to you in case of ownership disputes.
However, if you're going to edit your personal information, you'll first need to disable the Registrar Lock. When the option is On, you can't make any modifications to the contact details, transfer the domain away, or delete it. The feature is designed to stop domain hijackers, so it's recommended you keep it enabled unless you really need to deactivate it.
The same drop-down menu also lets you manage your domain renewal options. By default, all hosting packages and domain names are set to renew automatically to prevent service downtimes. You can modify these settings and choose to manually renew any domains that are close to expiration.
Transferring Domains to ScalaHosting
When you're signing up for a new hosting service, you can also transfer an existing domain to ScalaHosting. With this, you will ensure your entire project is managed from a single place.
When a domain is transferred, it's automatically renewed for one additional year. Normally, the transfer is free, and customers pay for the added year to the domain registration. Still, if the hosting plan you picked has a free domain included, you'll be able to request the transfer completely free of charge. To ensure the successful migration of the domain, you need to double-check a couple of things.
First, take a look at your domain expiration date. The transfer can take up to two weeks, so if your domain expires during this period, you could end up losing control over it. In some cases, it could be a good idea to renew the domain at the old registrar before initiating the transfer. If you do so, you will still get the year added to the expiration dates, and you won't need to worry about renewing the domain for quite some time.
Second, make sure the domain lock is turned off. Your old registrar should point you exactly where you need to look. If the domain is locked, the transfer will fail.
Finally, ask your old registrar for the domain authorization (or EPP) code. It's an essential part of the process, and without it, you won't be able to request the transfer.
What Happens if a Domain Expires?
Did you know that if a domain expires, it's not necessarily lost for good? It simply stops resolving correctly after its expiration date, which means your website will go down, and your email service will be disrupted. Still, the domain remains in your Client Area, and you will be able to renew it at the regular rate.
You shouldn't delay the renewal too much, though.
30 days after its expiration, the domain enters the so-called Redemption period. While it is in place, you are still able to regain control over the domain and renew it, but this time, you need to pay a hefty redemption fee that could go up to hundreds of dollars, depending on the registrar.
If you fail to renew the domain during the redemption period, it will be sent to the domain registry for deletion. Eventually, it will be released for registration once again, but nobody can say when that will happen. There are even cases when the registrar might decide to "hold" a valuable domain and sell it for a premium fee to the highest bidder.
Domain Reselling
Starting your very own web hosting business isn't that hard or expensive with a reseller account from ScalaHosting.
With it, you can build your own brand, attract more customers, and manage their accounts through an easy-to-use control panel. Not to mention the extra revenue stream…
With every reseller hosting plan, you can activate a domain reseller plan, which allows you to register, transfer, and renew domains for your customers. Users will be able to manage everything related to their online project from a single place, which adds enormous value to the service you're offering.
The reseller account itself is free, but you need to credit it with funds which you then use to register and renew your domains. To activate it, you have to put in a minimum of $25, but you can easily add more funds later through your Domain Reseller dashboard.
After you activate your domain reseller account, you will receive a welcome email containing more information on what you need to do next. The account is managed through a separate Admin Area located at https://domains.scalahosting.com/reseller/.
When you log in for the first time, the Admin Area offers to help you set up your account with a quick setup guide.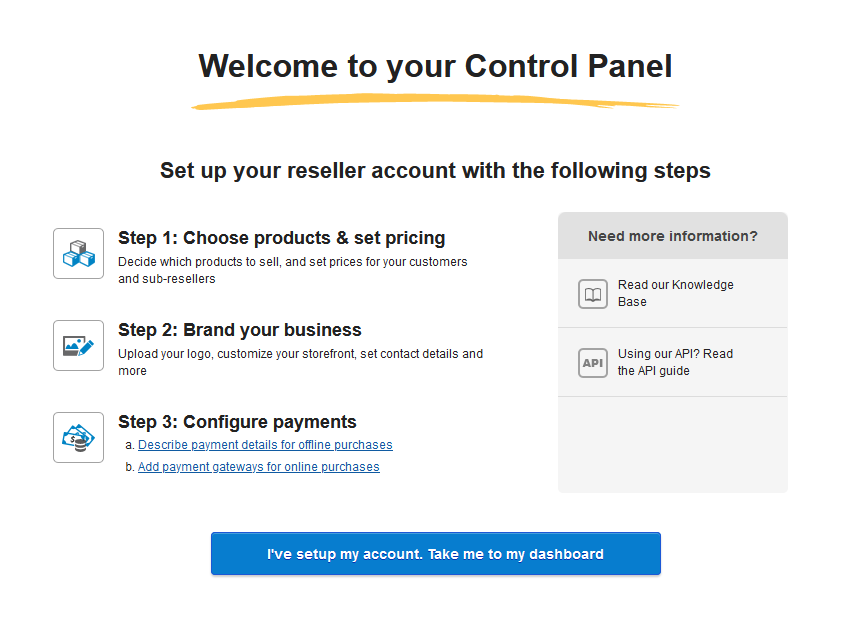 Your first step is to choose what sort of products you're going to offer and at what prices. This happens through the Domain Registration page.
Through the Manage TLDs list, you can decide which domain extensions will be available to your customers. You have three options for each TLD:
Sell means that you will register and renew the domains with this TLD.
No New Orders indicates you will not register new domains with this TLD but will continue to support and renew existing ones.
Do Not Sell is only available if you have no orders for that TLD. This option means you don't want to sell these domain extensions.
After you've made your selection, you need to confirm you agree with the service's Terms and Conditions and click Submit. The system will notify you when it successfully applies the changes.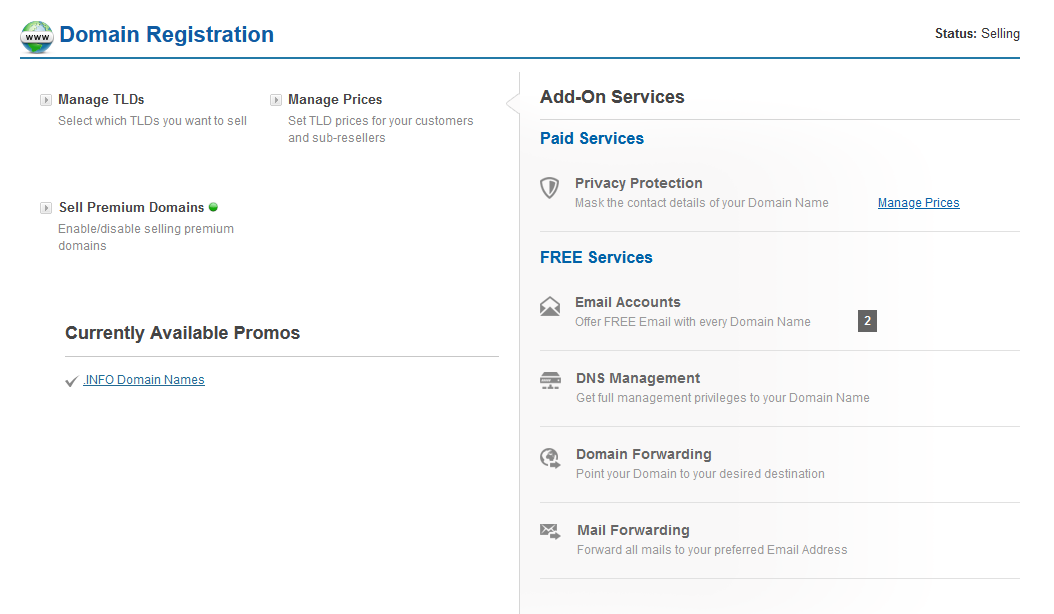 The Manage Prices page should be your next stop. The table contains the cost of each domain registration/renewal/transfer/restoration and the default prices, set to give you a profit margin of roughly 20%.
You can set prices automatically using a profit margin of your choice or edit individual prices by clicking the pencil button next to each TLD.

By editing individual prices, you can also offer discounted rates to the customers who want to register a domain for a longer period of time.
Your customers can also resell domains. As a reseller, you can grant them access to the tools and features that enable you to run your domain registration business. Through the Sub-Reseller Pricing tab, you can determine the terms under which this can happen.
The final price you need to set is for the Privacy Protection feature that gives users the ability to hide their personal information in whois databases. Its pricing is managed from a separate link available on the Domain Registration page.
The Setup Guide's second step redirects you to the Branding Settings page. Here, you can enjoy an intuitive white-label platform to create an entirely new portal for users and sub-resellers. You can also integrate the domain registration service with your own website.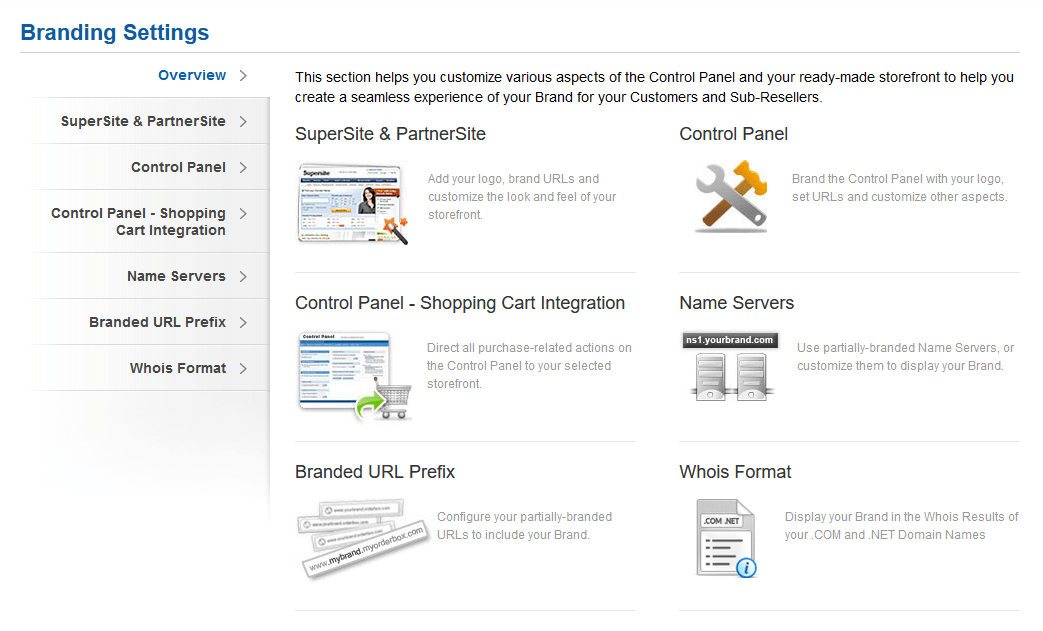 Finally, you need to configure the Payment Settings.
First, things like the currency and transaction limits must be determined, and the system then lets you add the payment gateway of your choice.
Once you've gone through the initial setup guide, you can go to your domain reseller dashboard. It gives you access to all the tools you need to control the service, including an API that can make the integration much smoother.
Conclusion
The analogies between the domain name and the facade of a building are not unreasonable. People usually notice your domain before seeing your website, so it's natural they build some expectations before hitting the Enter button. It's up to you to ensure these expectations are met and even surpassed.